When a Flagstone Pathway Provides Peace of Mind
Uneven Lawns Can Be a Hazard
It happens to all of us. We reach that point in life when we aren't quite as steady as we once were. What's worse, is when we see that happening to our parents. That is exactly the scenario CJ Barnett found herself in. Her father had moved in so she could help take care of him, but there was one independent daily chore he enjoyed—going to the mailbox to pick up the post. Unfortunately, that meant a trek across uneven lawn and garden areas.
CJ did what most people do, she did an Internet search. That search led her to the solution of creating a path that would be more level and stable. Of course, she could have just gone with concrete, but that didn't match the look and feel of her yard. Natural stone was her choice.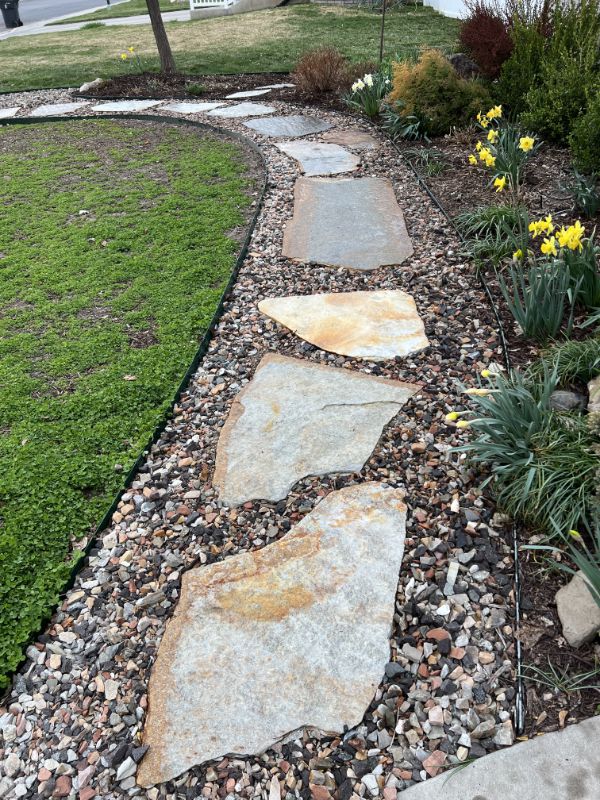 Back to the Internet, she found several places that sold flagstone products, including big box stores. After visiting a few, CJ came to the rock professionals at American Stone. She was delighted to find people who could help her with just the right type of flagstone for her project. "The American Stone yard was set up well and allowed me to see multiple samples." CJ said.
With the help of the American Stone Team, CJ was able to get what she needed, and the rest is history. A beautiful Autumn Gold flagstone path now adorns the front of her home. But more importantly, there is a safe way for her father to make his daily trip to the mailbox. After all, come rain or shine, the mail must get through.
At American Stone, we are thrilled to be a small part of the story to help CJ and her dad have a beautiful, safe addition to her outdoor living area, and provide peace of mind.