Getting Started
Creating beauty, saving precious water, and cutting down on yard work can be easy with xeriscape.
Turn your garden or yard, into a talking point with a water-wise pathway that is low maintenance and cost effective.
With these simple step-by-step directions you will have a garden created with the true natural colors of crushed stone. You can mix and match ground cover stone to make your space as colorful as you like with texture and depth.
Determining the size of your project


 Before you start your xeriscape project you need to determine the size of your project so you get the correct amount of supplies to finish with style.
The easiest way to determine the size of your project is to turn it into a square or a rectangle. This makes measuring the amount of stone your need easier. Multiply the length of your project by the width in feet. This will give you the square feet of your project. One ton of most xeriscape stone covers 100 sq. ft at 2 inches deep.

Creating your space

Now you can take your space and clear away previous landscape and garden space. You don't have to remove grass unless you plan on making your xeriscape level with the landscape. If this is the case you will need to dig your space down for a 2" depth. If you plan on creating curves and shapes in your finished product, this is the time to use your overall design. Make sure you have raked up all debris at this point. Anything sharp can puncture the weed guard and allow future unwanted plants to grow through.
If you plan on adding a stone garden to your design, verify that the ground is level. Any grade or unbalanced ground can cause your path to be graded as well. This can be done with a simple level and rake.
Take your weed barrier and cover the whole space, leaving at least 2 inches at the edges to account for the depth of your space.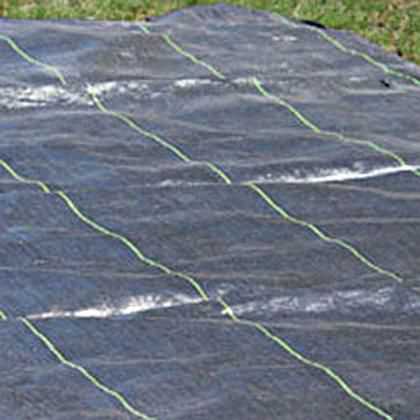 There are various grades of weed guard. If you are placing your new landscaping near or over old grass it may be beneficial to get a high grade of weed guard, this will help prevent the ability for any grass roots to work their way through.
Take your anchor pins and put them through the weed guard around the edges about every 6 to 8 inches. This prevents your fabric from moving around while you are working on your project and after your project is finished. If you do this step your project will last longer.
By the time you arrive at this point, it should look something like a garden swimming pool. You could have a square, rectangle or unique design for your new xeriscape.
Creating a masterpiece

One of the best parts about creating design. You are only limited by your imagination. A few ideas to think about is multiple colors of stone in designs and patterns. Changing up the size of your rock. Crushed stone comes in many sizes and shapes. Try altering between crushed stone and cobble stone.
I suggest you draw it on paper first and add some colored pencils. If you have a guide and an idea to start with your project will be more like the dream you started with.

Finishing up and following up

When you are finished with your project, we would love it if you uploaded your images on our Facebook page with a description of the stones you choose to use with your ideas for design. Help the next DIY inspired xeriscape along.